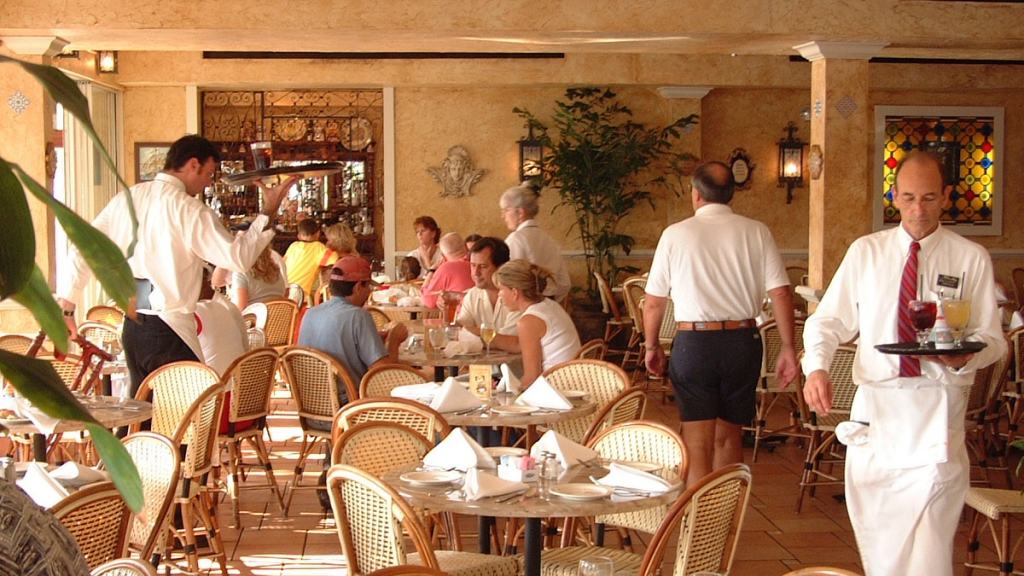 Whether you own a café, delicatessen, pizzeria, yogurt or ice cream shop, fast, family style or fine dining restaurant(s), there are 5 important restaurant insurance coverage's every owner needs to have:
1. General Liability Insurance:
This type of coverage most owners know that they need to have and normally get limits of $1,000,000 to satisfy their landlord's lease requirements. $1,000,000 is a solid amount of coverage in my opinion, although I often recommend $2,000,000 to my clients due to the high cost of medical care as well as attorney fees. If a patron gets sick or claims to get sick, if they trip and fall, if they get hot coffee, tea, spilled on them they can sue for bodily injury and emotional trauma. Most patrons are not going to make a big deal about it but others run like a jack rabbit on an espresso to a personal injury attorney. My recommendation is get a minimum of $1,000,000 or $2,000,000 to protect your bank account. If you have a chain or several restaurants get a commercial Umbrella policy.
2. Property Insurance:
This is coverage for non-permanent property in case of fire or internal water damage, smoke, windstorm, electrical surges, lightning strikes, explosion, collapse of roofs and walls, or vandalism and other covered peril. Take a good inventory and get enough coverage so after a major fire the insurance company writes a check big enough to get you up and running again fast. Don't forget to add your aircompressors which may be on a roof or outside the building.
3. Tenants Betterments & Improvements:
Most restaurant owners lease their space and either they or a previous owner spent a lot of money on the following types of permanent equipment. Kitchen grille/stove, deep fat fryer, oven, hood, fire suppression system, walk in coolers, brick flooring for kitchen and hard wood for main dining area, built in booths, paint, custom wood or iron work, and sometimes custom lighting too. Any business's owner property that is "built in to be permanent" is insured under Tenants Betterments & Improvements. I often find restaurant owners are under insured for these permanent items, so make sure you get enough coverage so that insurance check pays for all permanent business equipment post major Fire.
4. Tenants Liability Insurance:
Most restaurant owners are unaware that their General Liability coverage will not pay for physical damage that they cause to that part of the building that they are leasing. If they cause a fire, they need what's called "Tenants Liability Insurance". This is the number one insurance type that I discover owners have too little coverage. Make sure you get $250,000 to $1,000,000 depending on the size of space that you are leasing. If you own a small café and lease 800 square feet, probably about $100,000 is enough. If you lease the entire building, $1,000,000 at a minimum is what I recommend and maybe more if you occupy a 5,000 square foot or larger building.
5. EPLI Insurance:
EPLI stands for Employers Liability Insurance and protects you if you fire an employee and they get an attorney and sue you for Wrongful Termination. Employees can and do in restaurants sue their employer for sexual and nonsexual harassment based on race, gender, color, ethnicity, sexual orientation, age, disability, and religion. I always recommend for smaller restaurants with fewer than 8 employees to get $100,000 in coverage as my carrier Farmers Insurance only charges $100 to about $250 a year for this critical coverage.
I have $1,000,000 policies for large restaurants. You can also buy what's called 3rd party coverage which means if a patron or any other person sues you for discrimination or harassment, Farmers Insurance will defend you and pay any settlement. EPLI claims are like earthquakes. It's a claim that doesn't happen too often, but when it does it costs restaurant owners $25,000 to $100,000. Why? Because attorney's fees are $400 an hour typically in California, so one week's time at 40 hours is $16,000, and these cases always drag on for a year or two before settling! Without this endorsement added to your restaurant policy, you have pay out your bank account to hire your own attorney to defend you and the business. Be smart and get this coverage now if you don't have it.
Please call me for an insurance review and quote anytime or even if you just have a question! After 20 years of writing restaurant insurance, I know how to custom fit a liability and property policy to protect my clients!